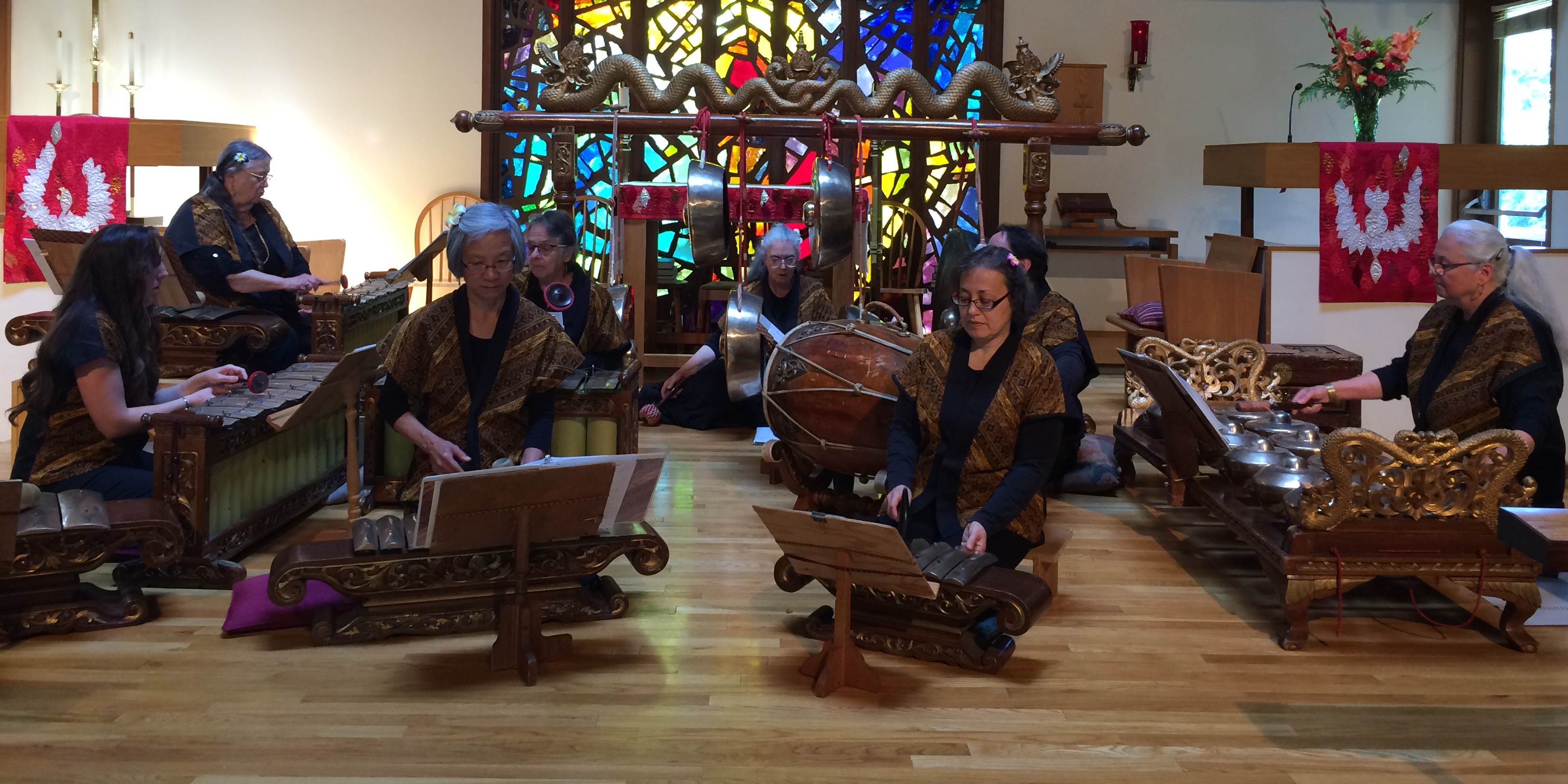 For prices and performance bookings, please email us and we'll respond as soon as we can.
We play for any occasion
Please consider booking Eugene's Gamelan Sari Pandhawa for your performance venue, exhibition opening, festival, ceremonial gatherings, or any other event that can be enhanced by this spellbinding music. We have performed at weddings, memorial services, and private parties.
We have performed throughout Oregon, including the Eugene Celebration, Oregon Coast Music Festival, Asian Celebration, Salem World Beat Festival, Willamette Valley Folk Festival, University of Oregon's Beall Hall and Erb Memorial Union, and more, both in concert and accompanying dance and shadow puppet theater. The ensemble has also performed at schools, art galleries, and cultural events.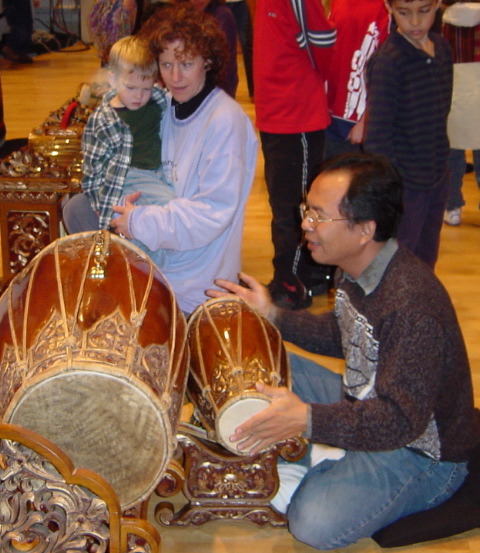 Our repertoire includes traditional and contemporary music in a variety of styles, ranging from poetic songs to ceremonial court repertoire; From quiet, meditative pieces to stirring battle music.
Musicians observe traditional playing style: seated on the floor, wearing colorful Indonesian batik costumes. The beauty of the teak and bronze instruments, hand-crafted in Java, complements their ravishing sound.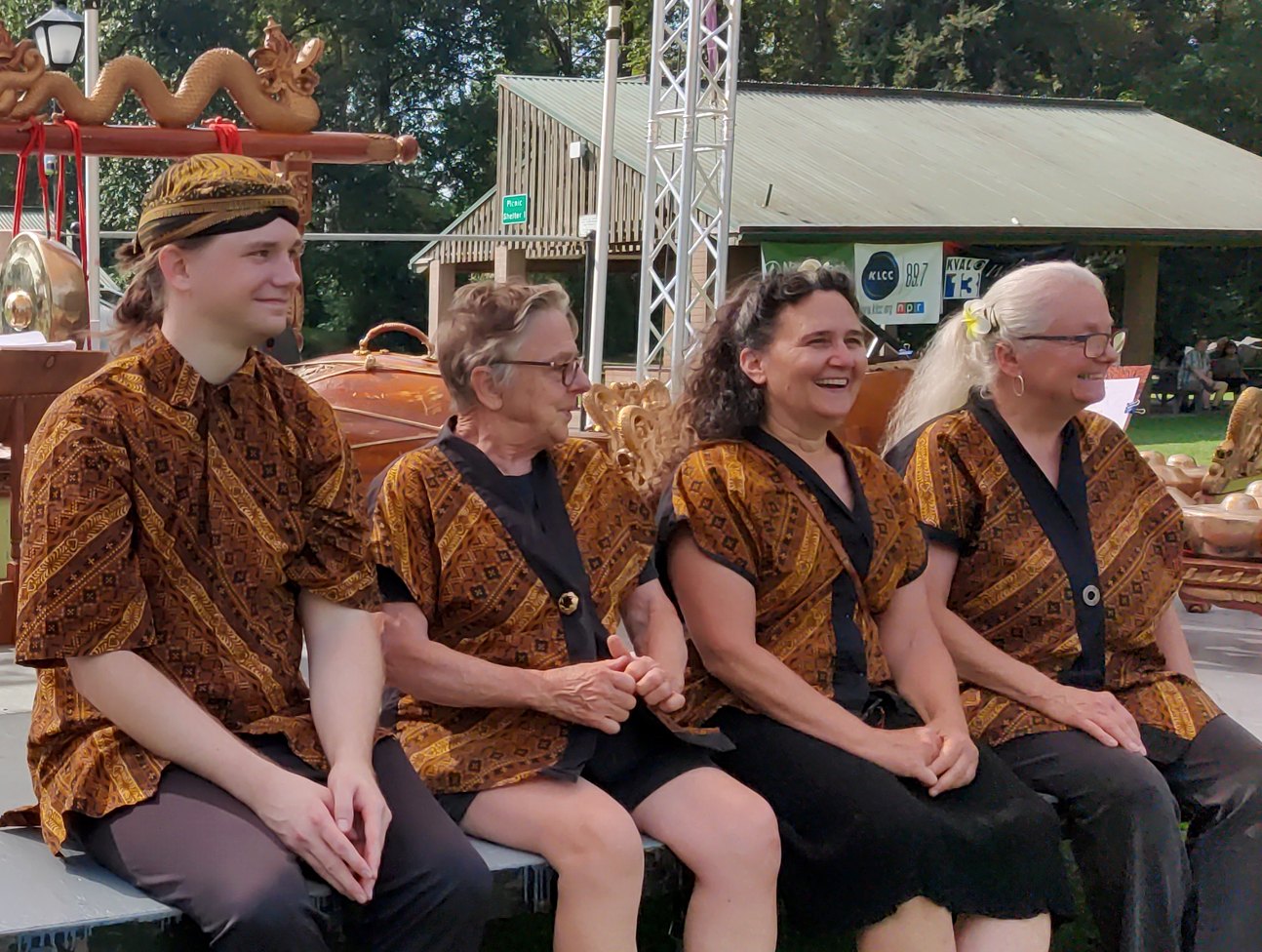 We're flexible
The group performs in either of two configurations: a large ensemble suitable for stage and outdoor events; and a smaller group which emphasizes the softer, subtler instruments, appropriate for intimate settings. We also collaborate with dancers and other performers.
Not just music
In addition to purely musical pieces, the ensemble performs Wayang kulit, the fabled Javanese shadow puppet theater, accompanied by gamelan music. The shadow puppet plays we perform are based on stories from the Ramayana, Mahabharata, and other world literatures (e.g. Beowulf).